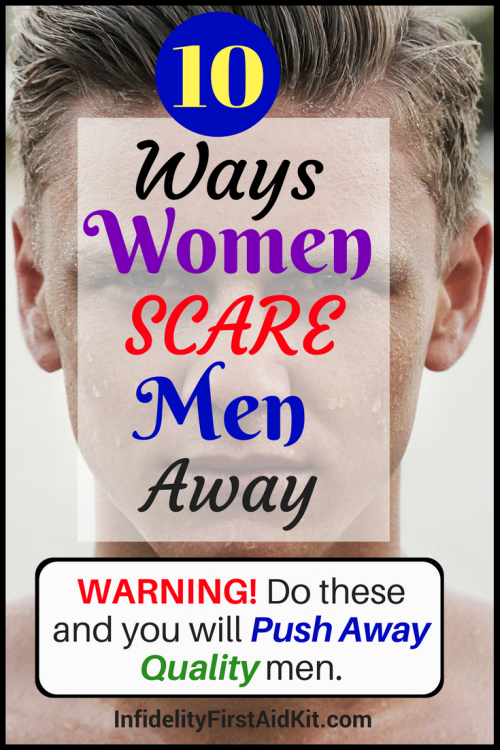 So how do women scare men away?
You're quite the catch. All you're friends say it. You're successful, smart, pretty, decisive and witty.
So why are you here reading this post then?
Have you come here to learn ways to attract men rather than scare them off?
Are you truly open for suggestions?
If so, then you've come to the right spot.
Today's pointers from popular online dating/relationship coach Evan Marc Katz will prove useful right away…starting today!
Thousands of strong, successful single women actively seek Evan's dating advice in order to find true love during their hectic work weeks.
Evan's team personally sent me his most popular book to review, "Why He Disappeared". It's taught tens of thousands of women how to connect with a man instead of repelling him during the different phases of relationships. And it's where I drew out the tips for this post's list, then carefully rephrased to organize them for this page.
Click here to read my PROs/CONs review of Why He Disappeared.
---
Who

Should

Read this List?
Mature women (in 30s/40s) ready for long-term relationship.
Career-minded women who use dating sites or apps to meet multiple men (waiting to meet Mr. Right– not just any guy).
Who are open for advice.
Who will accept feedback from a dating coach who thousands of other women claim have helped them find a compatible partner.
And those who can push aside pride (at least for a moment) to learn how women scare men away sometimes. [And read some tips HOW to START KEEPING them around more often.]
---
Then you could choose the best of the best (at least the best man for you, right?).
After all, you just want choices, don't you?
So let's start with what Evan Marc Katz claims are some of the reasons women scare men away.
[Read this related article: "WHY you're SINGLE! [Download] 11 Evan Marc Katz Secrets…"]
---
[Take Poll]

Why Do You Think Men Disappear after the First Date or Early in Courtship?
---
10 Ways Women Scare Men Away
---
(Rephrased suggestions from "Why He Disappeared" by Evan Marc Katz)
10. They Engage in Controversial Conversation on First Date. (p. 38-39)
Yes, you want a strong man. Yes, you want a decisive man with his own opinion. BUT the first date is not for debates or passing judgement. He did NOT ask you out to see if he could beat you in an argument. The fist date is for fun, laughs and bonding. Women scare away men when they repel men early in courtship rather than connect with them.
9. Let Busy Schedule Get in Way of Dating (work, friends, personal time) and Ignore Him. (p. 59-60)
You love your independence (drinks after work with the girls, weekend getaway trips, spa treatments). BUT when you finally decide to pursue a relationship you don't know how to fit the guy in your tight schedule. He doesn't feel like a priority. He moves onto someone else who appears to appreciate him.
8. Too Aggressive/Proactive During Courtship. (p. 68-70)
You do not fear approaching men. When you meet one you like you will text or call him. "Why wait, right? I can tell he likes me, well, at least I think he does." I tend to disagree with Evan a little here. Some men do like this, however, I do think it will appear as a role reversal for many men. We do like the hunt and feel a sense of accomplishment when we make the first moves and you accept. Women scare men away (most of the time) when you do the work for us.
How Good

are you

at Dating?
Why is it so HARD for you to meet a great guy?
Answer these 11 quick questions to find out if you do the things that make men like you, respect you and want you more.
Click Here to take QUIZ.
7. Place Him Under Microscope to Find Out What's Wrong with Him. (p. 86-89)
We get that you may have experienced some relationships in the past that didn't go the way you had expected. We also understand that want to feel comfortable, safe and don't want to be hurt. BUT asking questions early on during courtship in an attempt to uncover some kind of deep, dark secrets we are hiding will only scare us off. We don't want to be hurt either.
6. Reject His Kiss [When You KNOW You BOTH Like Each Other]. (p. 78-79)
You're nervous. So are we. We want nothing more than you to like us so we can continue to relive fun evenings with you. Many men want to express their affection with a first night kiss (if they like you). So if you stick to your rigid First Date "No Kiss" Rule and turn your cheek when we lean in at the end of the night you could risk killing our confidence if you reject us (…and chance for a second date).
If you like him, please avoid the temptation to jump to conclusions that he is a pervert for wanting to kiss you on the first or second date. Just go with it (even if it's a small kiss).
5. Interrogate Him with Questions to Uncover His Intentions and Long-Term Motives. (p. 90-92; 97)
You don't want to invest your time and energy in a man who will only disappear a few weeks down the road. So you clam up instead of enjoying your time with him and having faith that things will work out. Your negative energy and suspicion-laced questions make him feel bad about himself. Women scare men away when they perceive him as guilty before he can prove he's innocent.
4. Let Him Choose Where to Have Dinner…[*Then SHOOT Down His Choice*]. (p. 31)
You want the man to lead. This includes when he asks you out for dinner. You're also opinionated. Great, many men like that. When he chooses the place and then you tell he chose poorly do NOT expect him to want to choose another place. How do you expect him to feel now? Even alpha males do not want to feel like they displease you and look weak in your eyes early on (especially on the first date).
3. Expect the Worst and the Worst Will Come True. (p. 99-100)
Give the guy a chance. Give the relationship a chance. Maybe it does seem "too good to be true". After all, this is the moment you've been waiting for. If come across or express nervousness that you fear all these good moments will come crashing to an end then how do you expect him to feel? Uncomfortable, of course. Expecting the worst to come true is NOT a very attractive trait.
2. You Come Across Needy. (BEWARE: Fear of Abandonment). (p. 98-99)
You ask him if he thinks you are pretty. You ask him what he likes best about you (early on). You ask him to call you. Then the security runs out of control as your fear of abandonment appears and you start ask him where he is when you aren't together and what all his looks and body language mean. This removes all the fun of dating. It kills the mood. It's a MAJOR turn off. Insecure women scare men away- fast!
1. Express Disapproval EVERY Time You Feel Disappointed [AND this will happen…] (p. 104)
BONUS. You Make Him Ask Permission to Spend Time With Friends [Then Guilt Him Into Making It Up with You] (p. 105-106)
After you become girlfriend/boyfriend you must avoid ALL types of harmful types of manipulation. "I need to make sure he acts like a man." So you make him guilty for wanting to go out with the guys instead of taking you out one Saturday. However, you still "let him go" then expect him to "make things up" with you later. THIS IS A LONG-TERM LOSING CAUSE. You know what they say, "Good communication is the key to a happy relationship." So it benefits you to know when he feels like you bully him.
Manipulative women scare men away. (No matter how well things go in the beginning. In the end will resent the treatment.)
---
QUESTION

: "I fear I might scare some good men away. I'm open for suggestions to fix that. Now what can I do next? "
---
Try these suggestions…
[2 Choices]: (1) FREE [Checklist] DOWNLOAD: "10 Ways How to Keep a Man Interested in You". (2) Read my "Why He Disappeared" review by Evan Marc Katz for a sneak peak of his famous book referenced in the list from this post.
(1.)

FREE [Checklist] DOWNLOAD

: "10 Ways How to Keep a Man Interested in You" .
Tips from Evan Marc Katz' book, "Why He Disappeared"
How to better understand men in relationships.
Make him want a second date.
#1 Reason Men Stick Around
Click here to receive FREE DOWNLOAD 10 Ways How to Keep a Man Interested in You
(2.)

Review of "Why He Disappeared

" by Evan Marc Katz
What [Else] to Expect in, "Why He Disappeared"
#1 Thing that Makes Men WANT to Commit
#1 Misconception about Men
#1 Reason Why You May NOT Want the Alpha Male [After All]
Click here to read my "Why He Disappeared" review by Evan Marc Katz.
(You can also read the other Evan Marc Katz post I wrote "Why You're Single". Click here to read it.)
[Read my review of "Believe in Love" and learn how to build your confidence to get back into the dating life so you can find your soul mate.]